I post a lot about my Mustang but I haven't started from the beginning.  Here's a look at the engine before and after.
THE ENGINE AND ENGINE BAY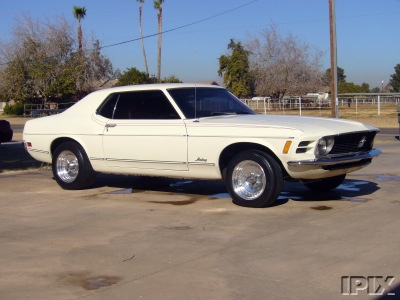 This the look the Stang sported before the new paint job I decided to do the engine first.
THE ENGINE:
You are looking at a Ford 250 straight 6 engine, compression 9.0:1 rated at 155 hp. Of course that's when it was new. with 175k + miles it's less then powerful and is pretty tired. As you can see in the other photos the engine bay is in very good shape but not too pretty. Look at the engine you can see it was in need of a lot of TLC – in the form of a complete tear down and rebuilding.
THE REPLACEMENT:
I decided on the 302 engine – keeping with what was available at the factory at the in 1970. The 302 mated with a 3 speed transmission was an option at the time. This engine is a 1970 re-manufactured power plant by S&S Engines and bored .030. These are the photos of it still in the crate.
With all the components:
So what's it got??!!! Well, we start with the main pieces: Holley 4b carb, Typhoon intake manifold and Hooker headers turning the single exhaust into dual with Thruster mufflers – oh the sound!!!!. I think it looks great. Steve put it all together and detailed painted and routed electrical, gas line, hoses. Cleaned up the entire engine bay. EXCELLENT JOB!!! A new triple core radiator and shroud, all new a/c hoses all new heater hoses, Steve's a master.
The Engine Bay:
This is the engine bay nearly completed. It's clean and crisp. These images are before all then hoses and wiring were added. We took the time to remove parts from the bay wall and replaced them after hitting the complete inside with the flat black paint – a work of art!!.
The FINISHED PRODUCT:
BEAUTIFUL!!!!!!!!!
The engine puts out about 300 HP which makes this car a lot faster than it use to be.
Thanks for reading.
Tim
#Mustang
#ClassicCars