Remember the Detroit Electric SP:01? Announced in 2013, it followed a well-thumbed recipe and promised to be an esoteric entrant in the eco-friendly sports car class.
Well, it's back and in production form ahead of official sales in 2015. And it's a bit different to before, adopting a new fastback body which lends it bold new rear styling as well as better handling, thanks to its new rear wing and diffuser combination.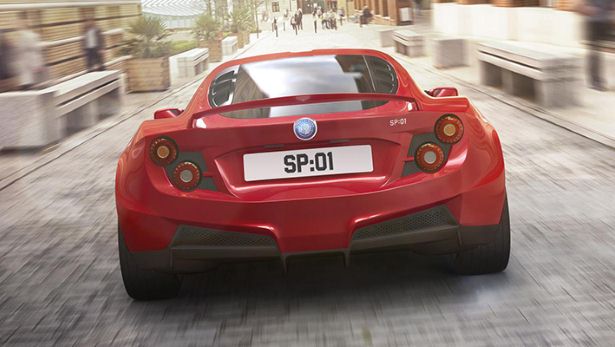 As a result, it looks helpfully different to an Elise or a Tesla Roadster, with a hint of the wonderfully hardcore original Exige about it now. Good job, given it's set to cost around £80,000, a figure quickly approaching BMW i8 money.
Under the skin, a 282bhp electric motor drives the rear wheels. With a hot hatch-like weight of 1175kg, it's enough to hustle the SP:01 to 155mph via a 3.7sec 0-60mph time.

via The world's fastest electric car? – BBC Top Gear.
Would you consider an electric sports car like this?
By the way, if you thought this looked like a Lotus…you'd be correct, they used the base platform (frame, etc.).  Lots of heated comments on this item, some say it's not the fastest electric car!!  Join in, let me know what you think!!
Thanks for reading.
Tim
Detroit Electric shows its year-late battery sports car
Detroit Electric giving a look at the rear end of what it considers the final version of its SP:01 battery-fueled electric sports car. The car will be somewhat similar to the Tesla Roadster no longer in production. Both are pure battery-power two …
Detroit Electric Unveils Revamped SP:01
While production of the Detroit Electric car is set to fire up soon, don't expect to see too many rolling around on American streets. The company says that it will be concentrating on establishing itself in key Asian and European markets before taking …