Here are your Auto Factoids (#AutoFactoids) for the last full week of May 2015.
 May 26, 1906 Mauri Rose was born in Columbus, Ohio.   Rose still holds the 2nd spot for the most Indiana 500 wins.  His first win was in 1941 but he didn't finish in the car he left the starting line in. The first car was a Maserati and developed mechanical issues and he moved to a Wetteroth/Offenhauser car.   He managed two back-to-back wins in 1947 and 1948, driving one of a Deidt/Offenhauser  Blue Crown Spark Plug Specials.
Mauri in the Blue Spark car!

Mauri in the Blue Spark car!
May 29, 1946 Kaiser-Frazer produced its first vehicles.  Kaiser-Frazer's plant was located in Willow Run Ypsilanti, Michigan.  The company was formed when the two purchased the defunct Graham-Paige (of which Frazer was once Present, prior to WWII).  There first cars were called the Frazer and Kaiser, one a mid-level luxury car and the other an innovative front wheel drive model.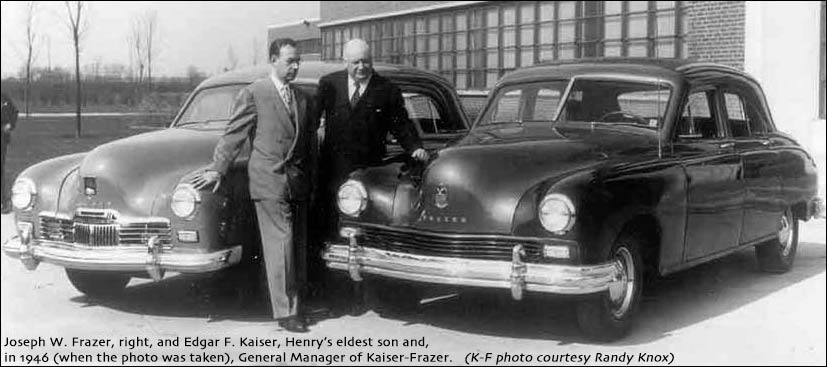 The two parted ways in 1951 and the company name was changed to Kaiser.  They went on to design some fantastic cars like the Darrin (named after one of the designer – Dutch Darrin.  Bill Tritt was the other part of the team.) and on to the Jeep fame with Willys-Overland.
Thanks for reading.
Tim
Indianapolis 500 Winners
1950 — Johnnie Parsons. 1949 — Bill Holland. 1948 — Mauri Rose. 1947 — Mauri Rose. 1946 — George Robson. 1942-45 — No races, World War II. 1941 — Floyd Davis and Mauri Rose. 1940 — Wilbur Shaw. 1939 — Wilbur Shaw. 1938 — Floyd Roberts.
1954 Kaiser Manhattan – Dare To Be Different
The Manhattan has been honored by the community and is the first hot rod to win the people's choice award two years in a row at the annual Kaiser Frazer Club National Convention. Share This Article. Facebook Twitter Google+ Email. Author: Christopher …