This 1936 Chevy Bus Was Made Into A Hose Hauler By The Fire Dapartment – Could It Haul Hot Rods?
Feb 16, 2015Brian LohnesBangShift XL, XL Online Find0
So there will never be a day when we grow weary of seeing, scheming about, or dreaming of cool car haulers. This 1936 Chevy school bus was converted into a hauler of sorts many moons ago by a fire department to move hoses around. They simply lopped off the roof of the passenger compartment and left a big open flatbed for them to throw their heavy hoses on. We're guessing that this rig was used in a town that wasn't too large because a 1936 Chevy school bus laden with rolls of heavy hose would likely arrive to the scene of a fire in time to help save the basement after the rest of the structure was consumed. As cool as its history is, how neat might the future be?
It would take some doing and a lot of dough but we're thinking that this truck has serious possibilities as a hot rod hauler. The cab area would need to be reworked and likely everything from the windshield back would need to be formed by a metal shaping house like Marcel's or someone of that creative genius level of talent so that it didn't look like a high school project. The entire drivetrain would need to be swapped out for something more powerful and modern, the chassis would need to be beefed, the suspension revamped, and the there's the issue of the hauler area itself. Leave it as a flat bed and simply add some ramps? Make some sort of a wedge deal on the back of it? This is looking like a Donald Trump level budget project but it is pretty fun to mentally design the truck as we would want it. Your turn.
via BangShift.com 1936 Chevy Bus.
I'm think it would be a cool toy hauler or maybe an awesome why to get your trailer queen to a car show!!!
Thanks for reading.
Tim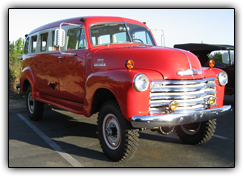 PPEP, Inc.
to southern Arizona farm labor camps. This was all done aboard a 1957
Chevy
bus
. PPEP was officially incorporated on December 10, 1969. PPEP TEC High